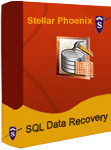 The heart of nearly any small, medium, or enterprise business is the information stored in its database. With so much riding on the information and associations made in a SQL database, the thought of corrupt or lost information, procedures, or associates is devastating. For small businesses without dedicated DBA support, Stellar Phoenix SQL Database Recovery Software may be all that stands between salvation and ruin.
How Does Stellar SQL Recover Software Work?
Stellar SQL Database Recovery Software is a simple to use application designed to recover corrupted or damaged Microsoft SQL .mdf files. The software can recover a SQL database by focusing on these components: triggers, defaults, user-defined data types, tables, stored procedures, and views. The heart of Stellar SQL Database Recovery software is the powerful algorithms that provide for a thorough scan of the file to allow for quick SQL recovery and the ability to repair SQL files that have been corrupted. Because the software works in a read-only manner, you can be sure that no further harm can come to your data. This allows for higher success rates of restoration for even severely damaged SQL files.
Simple And Effective
Stellar SQL Database Recovery Software employs an intuitive yet effective user interface. The simple array of choices allows even modest users to make best use of the software's power. We found the software to be fairly quick and locating and restoring mid-sized .mdf files. With 24 hour support and a free trial available, the software offers solid backing for non-DBA types who may need assistance.
Conclusion
Stellar SQL Database Recovery Software comes in at a price that is allows non DBA supported entities to survive the effects of corrupted or damaged SQL files for pennies on the dollar. While the software can't replace trained database administrators, it is a great tool for helping modest users resurrect damaged files that could otherwise hinder business. With this SQL repair tool you can recover your database in minutes.