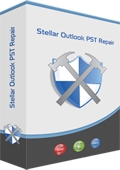 Microsoft Outlook contacts, email messages, notes, folders and more are stored and indexed by the .pst file.  If this file becomes corrupted, Outlook typically can't run the profile associated with that .pst file.  If you're a business person, and that profile happens to be yours, you might as well not bother showing up to work. As we integrate more of our daily personal and business activities with Microsoft Outlook, we leave ourselves vulnerable to a corrupted .pst file.  For times when renaming the .pst file and copying it over just don't fix the problem, look to Stellar Outlook Repair as a viable solution.
How The Software Works
Stellar Outlook Repair fixes corrupt .pst files in a safe read-only manner.  By first copying the file and then working with the copy, the user never risks losing all of the information contained in the corrupted .pst file.  The software can address corruption in every section of the .pst file.  Whether the issue is email messages, contacts, notes, journals, calendar, or other areas of the .pst file, Outlook Repair can recover the corrupted component.  The software also works with encrypted .pst files which are often far to complex for other software suites to deal with.
More Than Just A Recovery Tool
In addition to recovering and repairing corrupted .pst files, Outlook repair can also recover deleted emails and lost passwords, and split an existing .pst file.  The later function is especially helpful if you wanted to share or replicate certain parts of your existing .pst file to create new outlook accounts for subordinates etc.  By using the split functionality, you can essentially choose what you want to include in the new .pst file.
Conclusion
If you are looking for the ability to recover or modify .pst files for Outlook 2000, 2002, 2003, and 2007, we strongly recommend Stellar Outlook Repair. Within minutes you can repair Outlook and fix that corrupt PST file.