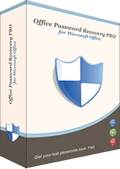 Layered security is a wonderful thing.  Password protection at the network, system, application, and file level greatly increases the effectiveness of the simple password architecture found in the Microsoft Office suite of products.  Unfortunately, losing one of those passwords can restrict access to important files or applications causing a potential loss of data, inconvenience, and lost productivity.  In order to gain access to files and applications for which you have lost or forgotten your password, check out Office Password Recovery.
How Does It Work?
Microsoft Office Recovery allows users to quickly regain access to Microsoft Office applications.  The software can recover Office passwords for all MS Office applications regardless of password length, use of special characters, or even foreign languages.
The Microsoft Office Password Recovery software is exceedingly easy to use. Two steps are all it takes to locate and recover your Microsoft Office passwords.  Office Password Recovery first scans for applications, and then recovers the passwords for each Microsoft Office Application selected.
Simple And Effective
To test the software we password protected a few Excel, Publisher, Word, and Outlook files.  We then opened Office Password Recovery and scanned for the files we couldn't open.  Within minutes Microsoft Office Password Recovery granted us access to the files in question and each of the files was in perfect working condition with all data properly located.
Office Password Recovery carries a Softpedia 100% spyware, adware, virus free certification, so you can be sure you're not downloading a backdoor client veiled as an important tool.  What is more, you can try before you buy, with a free scan straight from the manufacturer's website.
Conclusion
If you need to gain access to password protected Microsoft Office files, check out Office Password Recovery.  The software is straight forward with a simple interface, and works as advertised.