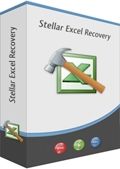 Excel spreadsheets are used for everything from tracking corporate expenses and productivity to managing personal items such as household inventories for insurance claims, or things as simple as the weekly grocery list.  With such common use, and interdependence in our daily lives, losing an Excel spreadsheet can be a disastrous experience.  Thankfully Stellar Excel Recovery offers a means to recover lost Excel or corrupted Excel spreadsheets and the priceless data they contain.
So What Can Stellar Phoenix Excel Recovery Really Do?
Stellar Excel Recovery allows users the ability to recover and restore corrupt Excel or damaged and broken Excel files due to virus attacks, unexpected system shutdowns media read errors, and instances where Excel cannot open an .xls file.  Excel Recovery Software uses strong search algorithms to recover as much data as possible.  More importantly, the program works in read only manner to ensure that the integrity of whatever remaining data is available isn't compromised further.
To test Excel Recovery, we took a large pivot table that had multiple macros in place and purposefully made a few entries, manipulated one of the macros and then powered the PC off with a hard shutdown.  As expected when we tried to open the file after rebooting the machine, the .xls file wouldn't open in Excel.  With Stellar Phoenix Excel Recovery installed, we used the extremely easy to navigate user interface to locate and repair our spreadsheet. The software was able to recover the spreadsheet to a useable state, and when the file was compared against its original version, it was found to have retained all data!
Conclusion
With so much riding on the accuracy of your spreadsheets, it's important to be able to recover them in the event of a corruption or other problem.  We found Stellar Phoenix Excel Recovery to be easy to use and effective in restoring corrupted .xls files.  In addition to our review, Excel Recovery has won acclaim from: PCQuest, LanLine, and PC Magazine. See for yourself why it was voted on of the best Excel recovery programs on the market.