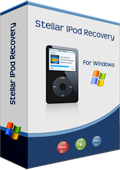 No one will argue that Apple revolutionized the portable entertainment market with the introduction and continual evolution of the iPod. As the device has gained acceptance and dominance, users have transitioned from using it as a dedicated MP3 player, to storing personal information, contacts, videos, pictures, and of course, music.  With users adopting the increasingly robust capabilities of the iPod, more data is trusted to these devices.  Unfortunately, even iPods can be corrupted resulting in the loss of important data.  When this happens, look to Stellar Phoenix iPod Data Recovery to put you back in touch with your missing data.
What Does It Do?
Stellar Phoenix iPod Recovery can recover music, photos, videos, and podcasts from you iPod.  The software supports both Mac OS 10.3.9 through Leopard 10.5x.  The iPod recovery software provides three unique modes of recovery: raw file scan recovery, advanced scan recovery, and standard scan recovery. For the most severely corrupted files, we found that the raw file scan recovery option worked best.  Another nice feature of the iPod recovery tool is that the software can prepare an image of a damaged iPod.  This is especially helpful as it allows users to generate an exact copy of their iPod data which they can then recover files from to a secure location.
Searching for various files is easy with the Stellar Phoenix filter that allows the user to filter by file type.  This is especially powerful considering the software supports: wav, gif, mpeg, mp3, mpg, midi, m4a, ogg, aiff, m4p, rps, avi, mov, au, mov, and wmv file types. If you having missing or lost files on your iPod use the free trial download to locate the files.  Once located, you can pay the reasonable $39 fee for an unlimited software license to repair and restore the lost files.
Conclusion
Stellar iPod Data Recovery is a valuable tool for any iPod user who finds he or she may be missing data or files that were previously trusted to the device. Simple download the iPod recovery program, scan your system for free, and see what it comes up with!