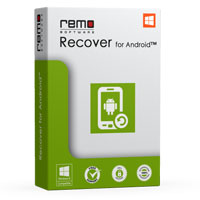 Remo Recover for Android
Directly recover deleted SMS text messages and contacts
Retrieve photos, video, audio and documents
Preview & selectively recover messages, contacts and photos before recovery
Only read and recover the data, no personal info leaking
Supports multiple Android phones and tablets, like Samsung, HTC, LG, and Motorola
Accessing and Restoring Deleted Texts and Other Messages
Have you ever been in a situation at work or in your personal life where you wish you could reference a deleted text or message to prove your point? At work, being able to prove you had informed someone of an important event could save you your job or a promotion. In your personal life, it could be the difference between sleeping in your bed or on the couch. Unfortunately once you delete texts and other messages to save space, you can't easily prove your claims of communication.
Unless you have access to a utility like Remo Recovery. Remo Recover for Android can help you find and restore lost photos, videos, audio files, and perhaps most important, texts and other messages.
Recovering Files is Nice, But Recovering Correspondence is Wonderful
Recover SMS messages and contacts in a flash. Your android phone is basically a small computer. Because of this the file system works in much the same way. This means that just because you deleted something, doesn't mean it's actually gone. Remo Recover for Android can help you quickly recover deleted messages and contact information so long as your phone hasn't overwritten that memory.
We store everything on our phones these days. Our Android mobile devices have become a central part of our communications and file storage. Having a way to retrieve any files we lose or delete from these devices is extremely important. Thanks to Remo Recovery software, it's never been easier to retrieve lost photos, videos, audio files and more.
Being able to selectively restore lost files is a huge time saver. While it's nice to merely have the ability to recover lost messages and contacts, sometimes there isn't enough space on your Android device to recover all of your deleted messages. Thankfully Remo Recovery allows you to select only the messages, contacts, and files you need. This saves you time, and valuable storage space.
Invest in a tool that will support your Android device today and tomorrow. Remo Recover for Android designed an application that works on a wide variety of Android devices including those from Samsung, LG, HTC, Motorola and More. Remo Recovery is quite possibly the only Android recovery tool you'll ever need.
Remo Recover for Android Features
Text Message and Contact Recovery – Restore lost or deleted text messages and contacts from a variety of Android devices from multiple manufacturers.
Restore a Wide Variety of Files – Remo Recover for Android allows you to recover videos, pictures, audio files and more from your Android device.
Select only the files your need – With the ability to preview the files and messages that you can recover, Remo Recovery allows you to save time and storage space.
Restore Your Contacts and Messages with Leaking Data – Many Android users know of the security risk associated with some apps in the marketplace. Remo Recover for Android allows users the peace of mind that when they restore lost messages and contact information, they aren't leaking important personal information to hackers.
Download Remo Recover for Android Today!
If you've ever wished you could restore a deleted text message to win an argument, save face with friends, or protect your job; your wishes have come true. Remo Recovery allows you to quickly, selectively, and effectively recover lost text messages, contacts, audio files, video files, and more from your Android device. Remo Recover for Android works with a variety of different Android device types from manufactures such as Samsung, HTC, LG, Motorola, and many more.
With a 30 day guarantee, free customer service, guaranteed virus free downloads, and numerous positive reviews, Remo Recover for Android is your best bet for recovering lost text messages, contacts, and more! Don't sit through another argument over a missed text message; download Remo Recover for Android today and quickly recover your deleted or lost text messages!